---
THE BIOLOGY & CHEMISTRY
of Beautiful Hair and How to Get It


Long locks of hair unlock the key to a man's heart... Throughout history, women have woven a tapestry of desire with their alluring tresses. Legend has it that mermaids and sirens lured sailors to their deaths while combing their long lustrous curls. Australian aborigines saved their wives' hair clippings as a prized possession. Even today, some orthodox Jewish women only allow their husbands to see this most enticing treasure... their crowning glory.
In this cultural tapestry of diverse hair styles, the esthetic for what makes beautiful hair can vary greatly. Although different cultures desire different qualities in hair, most people are attracted to lush, thick, long locks, especially in women. The barometer for a beautiful head of hair is youth. Just as a child's skin radiates with newborn freshness, young hair reigns supreme as the ideal crown to frame our dewy complexion.
Sadly, our hair moves away from that ideal as we watch it grow thin, lose pigment and get more and more damaged over mother time. However, proper hair care can reduce, and in some cases even reverse, the effects of the passing years.
What Is Hair?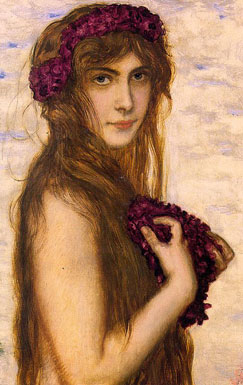 What if I told you that nails, scales, feathers, horns and claws are skin? Would that surprise you? Well, that's just the hairy truth. You see, hair is a specialized form of skin. Although the hair on our head generally invites the most attention, hair grows over a large percentage of the human body serving to protect, send sensory signals and sexually attract potential mates.
I can't count the number of times I've heard people ask: Tell me how to have a fuller head of hair... long beautiful hair. The question is how many beautiful hairs does it take to make up one head of hair? Well, a single hair has a thickness of 0.02 to 0.04 millimeters, so it takes 20 to 50 hair fibers stacked next to one other to span about one millimeter. We have about five million hairs on our bodies, with about 450,000 of them found above the neck. Now that's a whole lot of hairs isn't it? Most people have about 150,000 hairs on their head and normally shed 25 to 100 a day while growing an equivalent number of new hairs. Another 30,000 hairs reside in men's mustaches and beards. Blondes usually have more scalp hair than those with dark or red hair.
Mature hairs are filaments composed primarily of proteins (88 percent) which form a hard, tough, fibrous type of protein known as keratin. Proteins are composed of a long chain of amino acids that link together. The keratin found in human hair also forms a major protein in fingernails. Hair contains a tough outer coating, the cuticle, which consists of overlapping scale-like bits of hard keratin. Inside the hair shaft, or cortex, resides a core of softer protein filaments.
Hair proteins have a high sulfur content from the amino acid cysteine, which forms cross-links in the hair proteins that are responsible for the hair's toughness and abrasion resistance. You would never guess when looking at all the hairs that collect in your brush, but human hair is as strong as a wire of iron. Nevertheless, it rips after being damaged or stretched 70 percent beyond its original length.