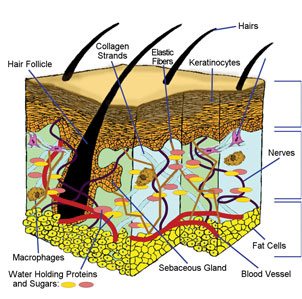 The Functions of Head and Facial Hair
Hair forms part of romantic and sexual attraction. Mermaids and sirens of the sea and the maiden Lorelei of the river Rhine are said to have brought men to disaster who became fixated on the beauty of their long tresses. Australian aborigines saved their wives hair clippings as a prized possession. Even today, some orthodox Jewish women only allow their husbands to see their hair.
What do we desire in hair? Humans generally are attracted to head hair that is relatively dense, thick-stranded, and somewhat long. Hair that is strongly pigmented (from blond to black) but not gray is generally preferred. The ideal of hair most closely approximates the physical characteristics of the hair on young child. Many conditioners add fats to thicken the hair shaft so it looks like younger hair.
Hair is a specialized form of skin as are nails, scales, feathers, horns, and claws. Hair grows over a large percentage of the human body surface serving protective, sensory, sexual attractiveness functions. Human beings have about 1,400,000 hairs on their body, with about 450,000 of them to be found above the neck. You have about 100,000 hairs on your head and normally shed 25 to 100 a day while growing the an equivalent number of new hairs. Another 30,000 reside in mustaches, beards, or whiskers.
Blondes have usually much more scalp hair than hair red or dark haired heads. A single hair has a thickness of 0.02-0.04mm, so that 20-50 hair fibers next to each other make one millimeter. Hair is as strong as a wire of iron. It rips after applying a force equivalent to 60 kg (130 pounds), after it stretched itself for about 70%.